You are ready to take the next step. Now leave everything in our hands. Going forward, we will guide you on how to select your subjects, extra-curricular activities and all the documents needed to validate your studies. We will maintain close contact with the host family and the school and will act as the link between the two.
Our programs take place at diverse schools in the provinces of Ontario, Alberta and Canada, Ken's offers students options to select from districts and schools closely aligned to the interests and character of each participant and best adapted to their curriculum and academic profile and personal preferences.
Public Schools and Catholic High Schools
These schools are located within school districts which manages the budget and number of international students allocated to each school. The majority of Canadian teenagers attend schools in their local area. The school year starts at the beginning of September after Labour Day, and completes at the end of June, with various vacation periods throughout the academic year, such as Thanksgiving, Christmas, Spring Break and Easter.
Private Schools
With a high level of prestige both nationally and internationally, private schools offer reduced class-sizes and extra-ordinary academic and sports programs. Academic requirements for entry are higher than for public and catholic schools.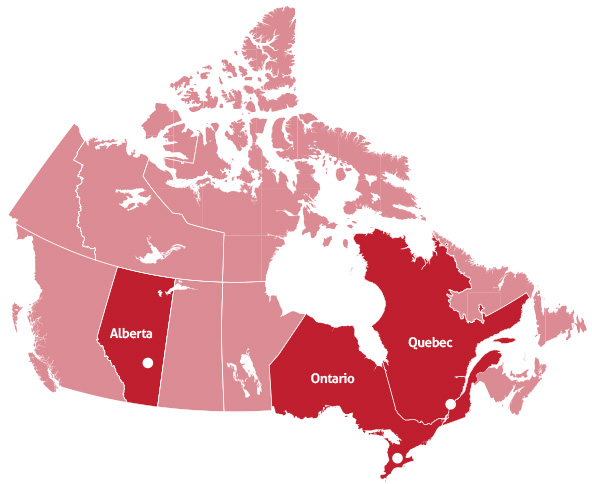 Accommodation
Canada is the second largest country in the world by landmass, with a large parts of it largely unpopulated. It is a vast, multi-cultural society and famous globally for its hospitality, safety, quality of life, great outdoors and endless natural resources for sports, travel and adventure.
Accommodation on all Ken's programs will be with a Canadian Host Family. Rather than the major cities, we generally choose families in smaller cities and towns, where integration is easier and you can relax in a wholly safe and friendly environment. The Host Families are varied, of different backgrounds and make-up. You will have your own room and on occasion you may share a family with another non-Spanish speaking international student.
The main advantage of staying with a family is the direct warm welcome you will receive upon arrival. Host Families are selected carefully and they are experienced in receiving international students and creating an ideal climate of comfort, safety, security, stability and trust quickly.
For private schools programs, there exists the alternative of students staying in a residence or boarding school.

Extra-Curricular
Once the school day is over, you can start having fun with extra-curricular activities and sports. Although all sports activities are optional, they are fundamental for students as they facilitate the opportunities to socialize, practice and compete in many different sports: hockey, curling, skiing, basketball, soccer, track, swimming… Sports are a major feature in Canadian culture and institutions and many successful teams train in impressive school facilities.
As well as sports, you can participate in numerous student clubs and associations, such as: chess, choir, band, dance, theatre, debating.
Extra-curricular activities are the best way to meet new friends with similar interest and a great way to relate to other students.
Grades Validation
All of Ken's academic full year courses require validation with the Ministry of Education in Spain.
Academic programs that are less than one full academic year do not require a reciprocal evaluation or validation. Some teachers keep all the grades that you obtained in Canada, some evaluate you upon your return and others simply transfer the grade obtained in the next trimester.
In the case of a full academic year, you will validate your course with the grade obtained at your Canadian school. We know that validation of grades is a cause of worry for both students and parents. For this reason, you can count on Ken's as specialists to support and help you though the full validation process.
Requirements
Be between 12 and 17 years of age.
Demonstrate the maturity and correct motivation for the program.
Have a reasonable level of English (B1 +).
Have a good academic record in the last few years.
Agree to the rules of the program detailed in the guide.
At Ken's we know how important and reassuring it is to hear about the experiences of students who have studied in Canada and trusted in us. For this reason, before deciding, we will put you in contact with both students and parents so they can tell you all about their program experiences first hand.


Carla Iglesias Forcelledo
Estudiante FESD
"Esto es un poco de mis primeras semanas en Canadá! Estoy muy contenta con mi host family y con todo lo que están haciendo para que yo me sienta como en casa. Estas primeras semanas he conocido un montón de sitios y todos son impresionantes, es igual que en las pelis! Yo pensaba que tendría problema en adaptarme tanto en comida como los horarios, pero al contrario, es todo mucho más fácil! En el colegio te acogen como una mas e intentan hacerte sentir bien, yo ya he hecho muchísimos amigos y me han invitado a todos sus planes, ir a ver soccer, hockey, ir a sus fiestas de cumpleaños, salir a dar una vuelta juntos….


Iraya Lorenzo
Madre de una alumna de 4º de ESO en Toronto
"Aunque nuestra hija es una chica decidida que le encantan los nuevos retos, estudiar en Canadá también se convertía en un reto para nosotros. Pero todo transcurrió de forma pausada y natural, casi sin darnos cuenta. Nuestra hija continuó con sus aficiones y conoció a muchísima gente. La familia anfitriona la acogió como a una más y viajaron por diversas zonas del país. Ha sido una experiencia única para todos, tanto es así, que mi hija pequeña está deseando irse al extranjero el próximo curso".


Patricia Mulas
Estudiante de 17 años, Ontario
"El nivel de involucración de la gente es total en los High Schools canadienses. Todos se esfuerzan por hacer lo que se les propone de la mejor forma posible y siempre de buen humor. Recuerdo las alegrías y sufrimientos de los entrenamientos y las competiciones, o los preparativos de los bailes y los estrenos musicales. La vida dentro de un instituto canadiense es como una montaña rusa, llena de emociones y retos diarios".


Pilar Jarque
Madre de un alumno de 16 años, Ontario
"Tenía claro que mis hijos debían estudiar en el extranjero. Hablar inglés de forma fluida les ha abierto muchas oportunidades tanto académicas como laboralmente. Es una gran inversión, pero merece la pena, ya que ayuda a los chicos a madurar y a tener una visión más definida de cómo enfocar su vida. Además, gracias a este programa, tenemos una familia canadiense con la que hemos hecho una gran amistad y a la que iremos a visitar el próximo verano".


Alberto Morales
Estudiante de 16 años, Ontario
"Para mi viajar es sinónimo de aprender, de acumular recuerdos y de abrir nuevas puertas. Estudiar en Canadá me hizo madurar y crecer como persona, además de mejorar muchísimo mi inglés que era uno de mis principales objetivos. Vivir otra cultura, conocer otras formas de ver el mundo y rodearme de un ambiente tan multicultural hizo que decidiera mi futuro profesional y tuviera claro que estudiar en la Universidad".
Just 3 steps to register!

Personal Interview
Request an appointment for a Personal Interview with one of our academic advisors. They will recommend the linguistic, cultural and academic program best suited to your needs and interests.

Documentation
Fill in the registration form and contract.

Submit the rest of the information online and pay conveniently, using our payment platform.
We will help you...
By giving you wings:
You will learn English comprehensively, investing your time and money in the best possible way. In all of our programs, everything is include, with no hidden extras.
By looking after you:
You are not just another number. We will look after you throughout the program. You will have a personal advisor, a 24hour hotline and Ken's monitor who will meet you at the airport to accompany you.
By offering the one course for you:
You won't go crazy choosing from hundreds of programs. Ken's will design and offer a single program that best suits your needs.
By guiding you through the experience of a lifetime:
To speak a language is to live it. The activities and experience you will participate in will help you mature, alter your perspective and how you see life, the world and your place in it.
"Two roads diverged in the woods. I chose the one less traveled by and that has made all the difference."
Robert Frost
El club de los poetas muertos